Convenient Form of Payment: Kids' Menu Tokens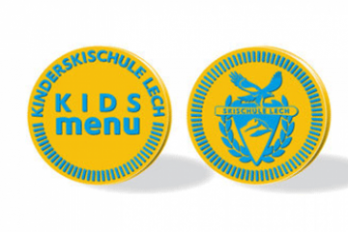 Thursday, September 17, 2015 - 14:59
Skiing works up an appetite! Even as the day begins, the kids are already looking forward to their shared lunch from the tasty Kids' Menu. Using their own tokens to pay for lunch is not only fun, it is also child-appropriate and safe. Tokens for lunches can be purchased in Lech Ski School along with the ticket for instruction if desired. The child can pay for one lunch (1 meal + 1 beverage)* at the ski school's partner restaurants with a token worth EUR 12.50.
The ski instructors simply collect the tokens after the meal, so that the lunch break runs smoothly without unnecessary wait times. Children return to the pistes relaxed and with their energy replenished.
Lost tokens cannot be replaced. No cash refunds are issued for unused tokens.
*The content of the Kids' Menu is determined by the restaurants in question.